Hello, time travelers. It's been quite a while since I interviewed a new shop for you. Thank you for your patience. Today, I am interviewing ScarletRabbit, a multi-talented shop which uses a variety of material to help clothe you in the gothic, steampunk, or Victorian style to which you will be accustomed after reading this interview.
Me:
Do you have a preference between crocheted items and items made from different materials?
Scarletrabbit:
Not at all. My proprietress is quite skilled in creating a variety of crocheted items, but she is also very talented in other areas as well.
Me:
Ok. Let's start with the crocheted chokers. Do you have any favorites?
Scarletrabbit:
Well, of course I like them all or I wouldn't include them in my shop. But here are some of which I am most proud: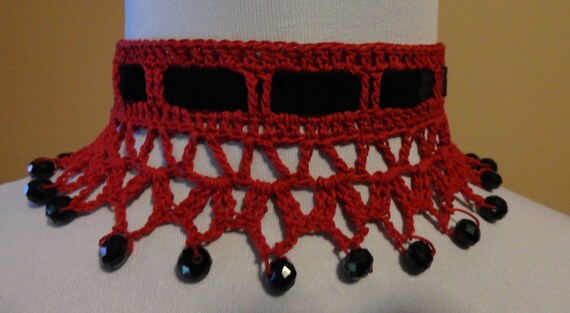 Me: This may sound like a silly question, but are the chokers comfortable? I for one don't like the sensation of being choked!
Scarletrabbit: Don't be ridiculous. My proprietress always strives for beauty and comfort. Cotton crochet is naturally comfortable, and she adds extra stretch in the back, or adjustable ribbons, for the perfect fit. Really, what a silly question!
Me: I'm so sorry. It's just that I'm very sensitive to tight clothing. I don't even like to wear turtlenecks.
Scarletrabbit:
Well, I'm sure you would if the turtleneck were made by my proprietress. However, she prefers more (cough) delicate and romantic couture.
Me:
Moving on, is the crochet used only for chokers?
Scarletrabbit:
I believe I have already answered this question. However, I shall repeat myself for your benefit. Of course my proprietress crochets a variety of items. I particularly love her wrist cuffs. Being partial to purple, this pair is one of my favorites: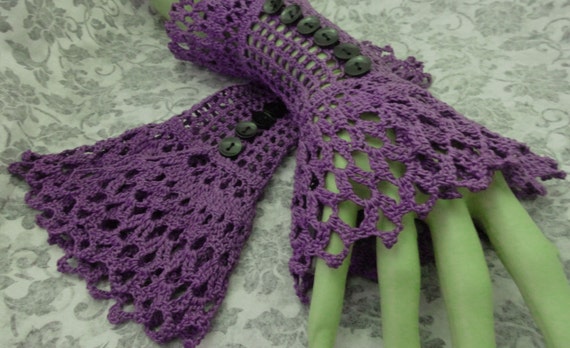 Me: Oh, those are absolutely gorgeous. I love purple too. You mentioned earlier that your proprietress works with other media as well as crochet. Would you mind showing me a few examples?
Scarletrabbit: Of course not. My proprietress excels at steampunk accessories such as these versatile pins: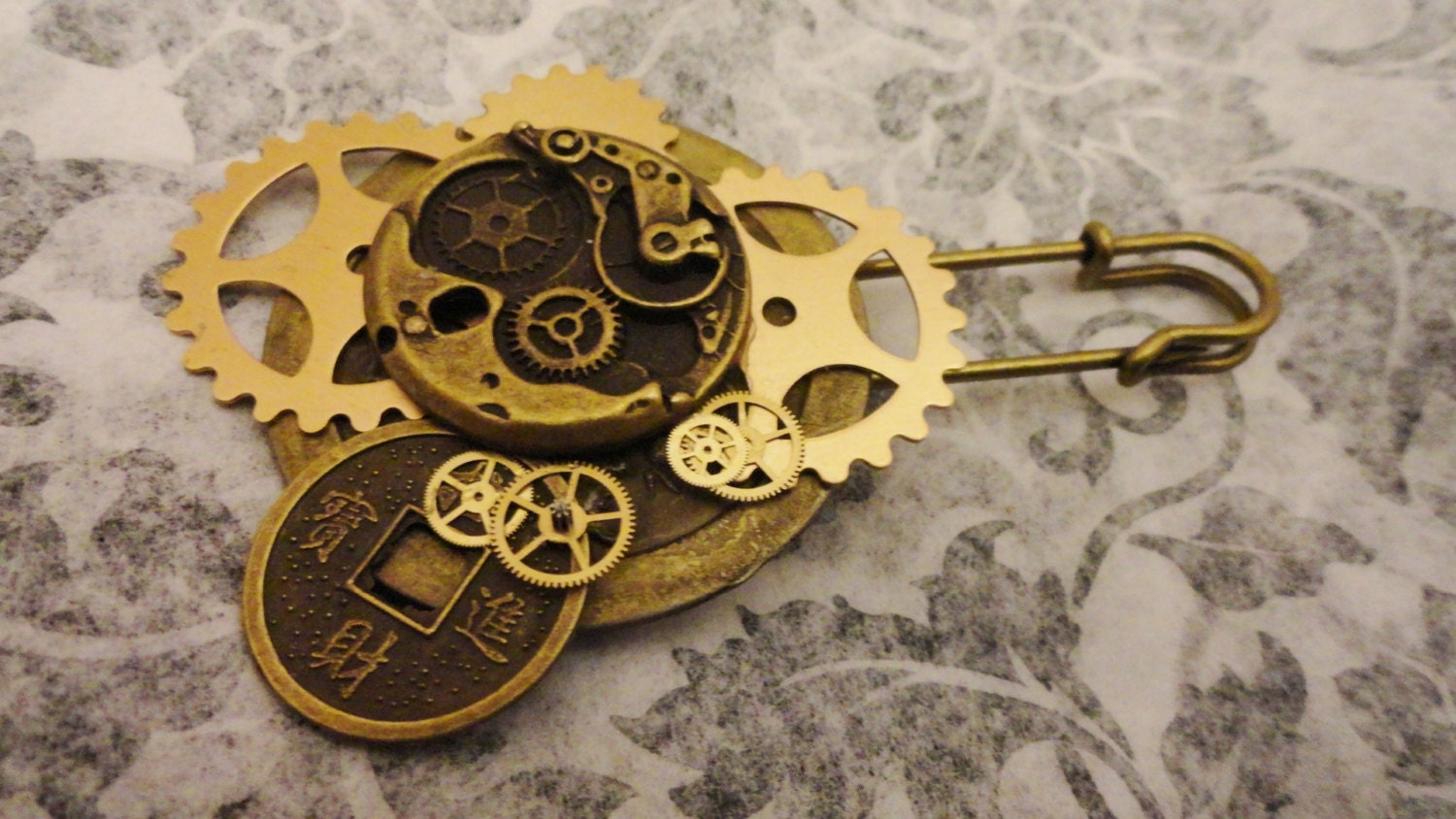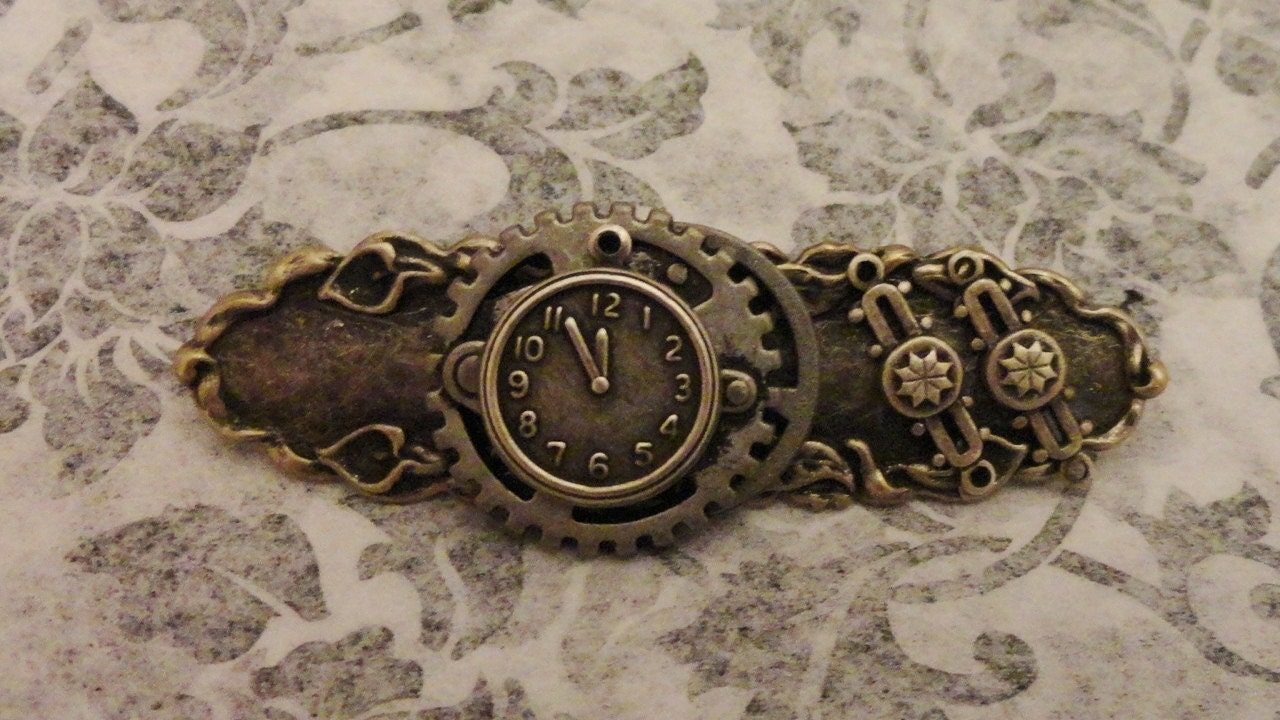 ScarletRabbit: I particularly appreciate that the pewter watch face pin above would look stunning on both men and women. It works equally well as a pin for hats, collars, shawls, lapels; whatever appeals to the wearer.
Me: I see what you mean. I love items that invite imagination.
ScarletRabbit: Then you have definitely come to the right shop. Who could resist this lovely combination of lace and grapes?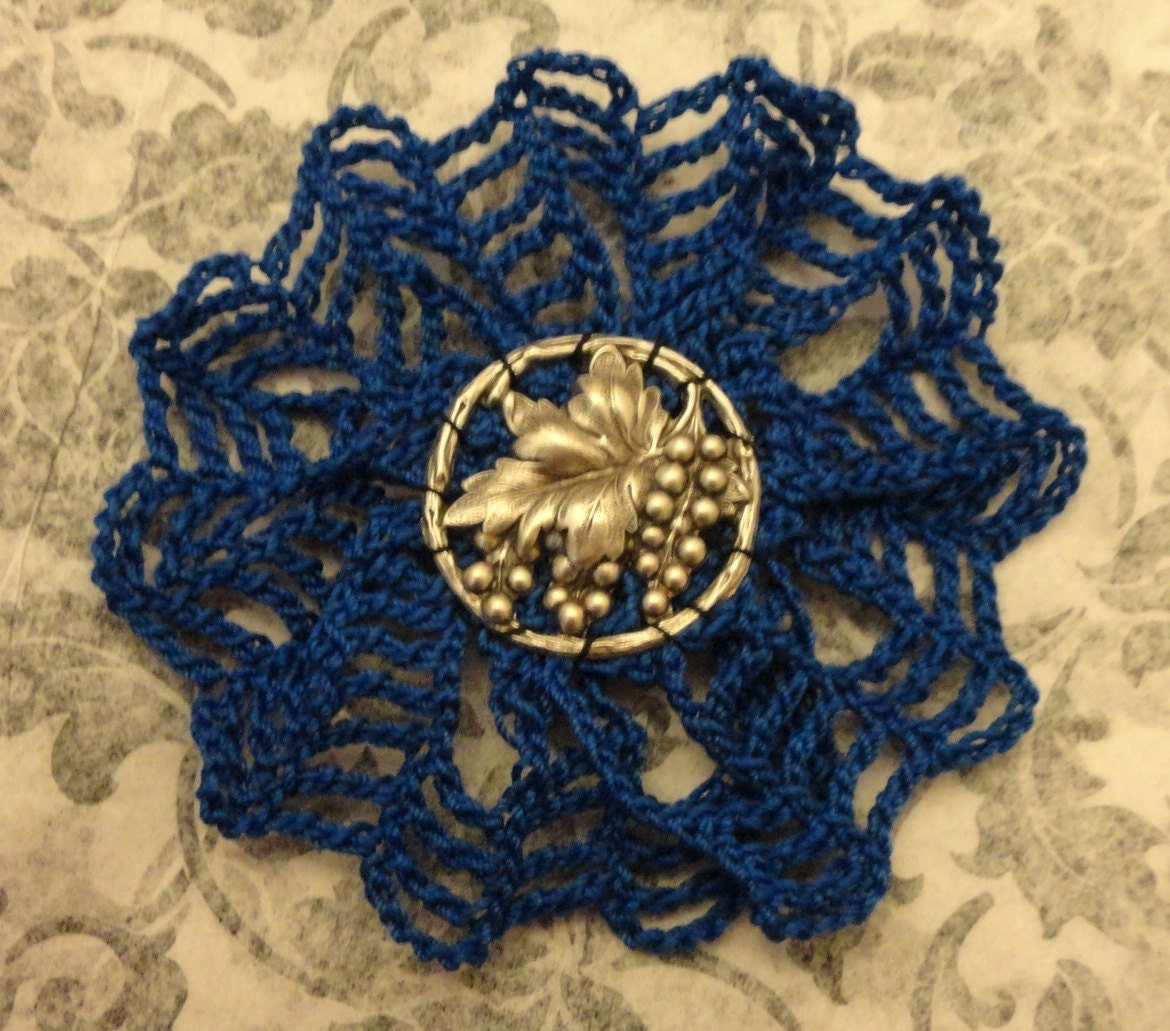 Me: It looks delicious. ScarletRabbit is definitely the shop to visit for crocheted or metal Steampunk and Victorian accessories.
ScarletRabbit: Thank you very much. That was very kind of you.
Me: You're welcome. Though I must confess that the comment was based entirely on my own opinion; it wasn't just an attempt to be polite.
ScarletRabbit: That is exactly the sort of comment I strive for. It is very important for my proprietress to create only the highest quality items that appeal to a broad base of discerning customers.
Me: Thank you so much for the lovely tour.
ScarletRabbit: You are most welcome. Please excuse my initial haughtiness. It was not immediately apparent that you held my items in the most appropriate regard.
Me: I apologize for having given that impression. I very much enjoyed my visit, and I would be proud to recommend you to my family and friends.
ScarletRabbit: I'm delighted to hear you say that. My proprietress and I always strive to please. May I leave you with one of my all-time favorites? This lovely chocker can be fully customized to the buyer's preferences.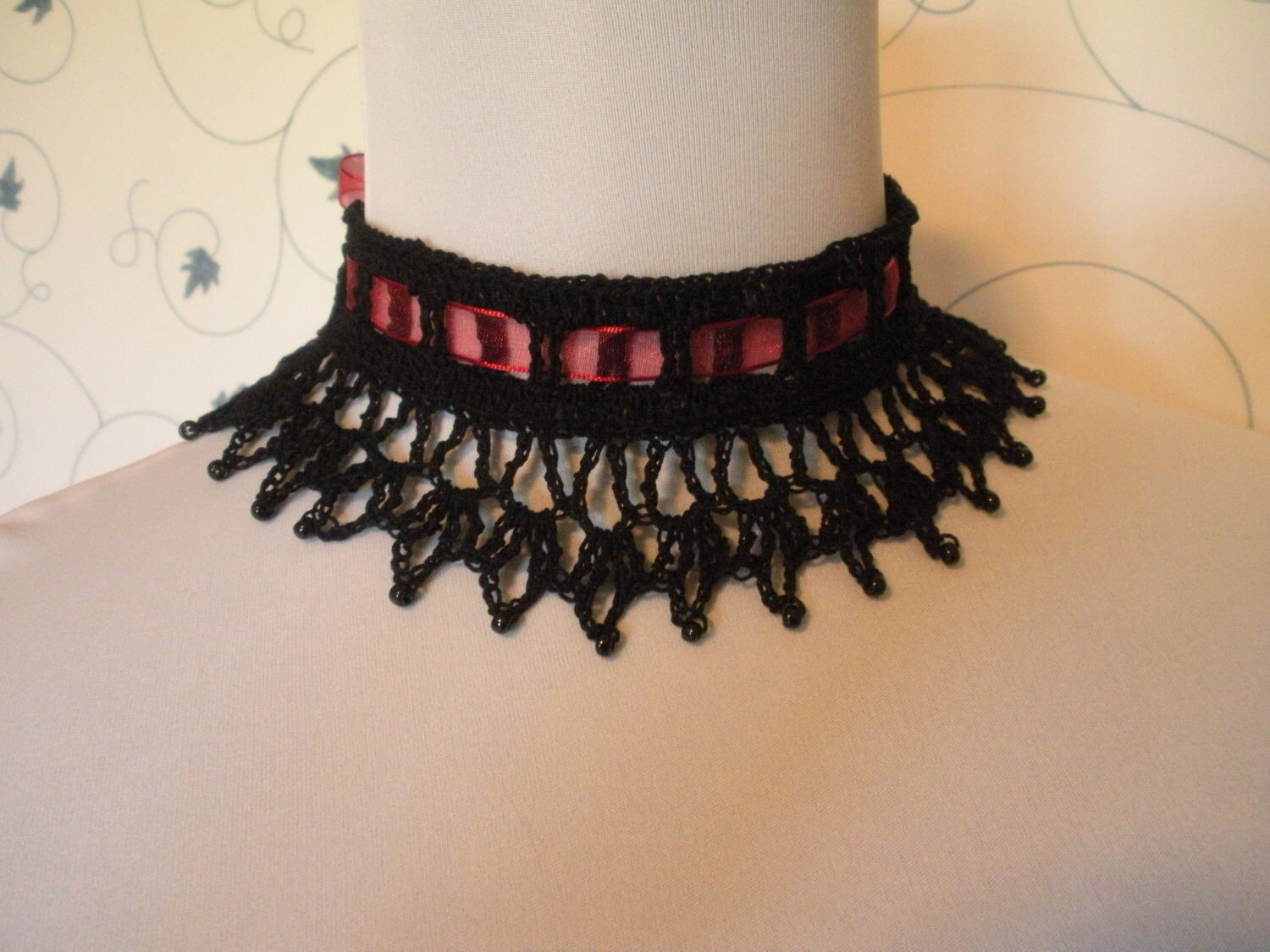 Me: Oh! I love that you can customize the colors to Victorian or Goth or all black or even white, for a wedding. It would be fun to order several in different styles.
ScarletRabbit: That is an excellent idea. I'll have to mention it to my proprietress.
Me: Thank you. I feel honored. It's been a pleasure to interview you, even with our slightly rocky start.
ScarletRabbit: Don't give it another thought. You are welcome here whenever you like. Thank you for taking the time to interview me.
Me: My pleasure.